Leasing Guidelines
Leasing Procedures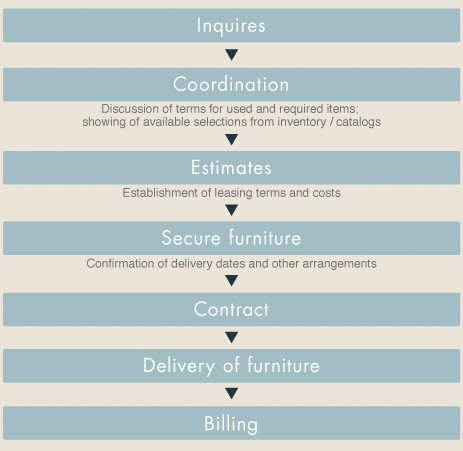 Delivery of goods
Leased goods will be delivered within two weeks of the time the contract is signed. If the items are from the LIFE and LIFE inventory, early delivery is possible. Upon delivery, items will be placed according to your wishes. However, there will be a charge for delivery and set up of electrical appliances.
If items are damaged
LIFE and LIFE offers property insurance to cover damage or loss resulting from various occurrences. But if a situation occurs not covered by insurance; for instance, if the leased property was damaged by the user intentionally or damage was the user's fault, the user will be responsible for the loss.
Cancellation
If you cancel your contract, you will be obligated to cover costs as follows:
1) The adjusted one month rent for the actual lease period
2) The amount calculated by multiplying A) and B)

A) The difference between the contracted monthly rent covering the original lease period and the adjusted monthly rent for the actual lease period
B) The number of months items were actually used
* If possible, please do not cancel your contract before the stated "Non-cancellation period" has elapsed. However, if you must cancel within this period, you are obligated to pay the equivalent monthly rent for the "Non-cancellation period ".